Prison Without Punishment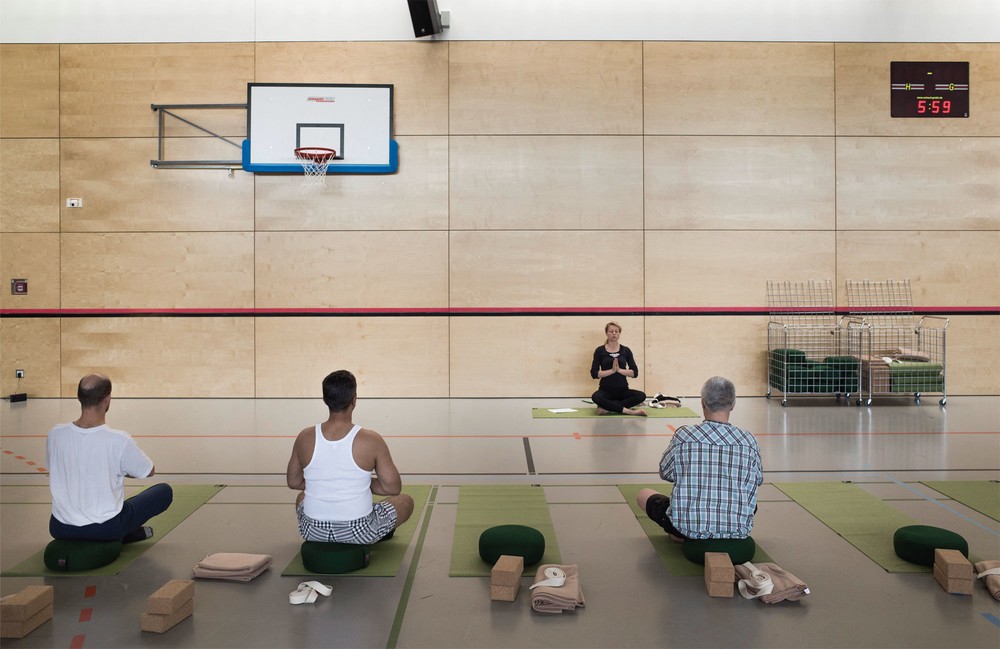 Inmates attending a yoga class at Heidering prison, on the outskirts of Berlin. Photos by Julian Röder
Published in partnership with the Marshall Project
This article appears in VICE magazine's upcoming Prison Issue, which will go online Monday, October 5
Last year, Gregg Marcantel, the secretary of New Mexico's Corrections Department, voluntarily placed himself in solitary confinement for 48 hours. He was one of a rare few who could choose to do such a thing, and it was a very Gregg thing to do—dramatic, physically demanding, good for a story. Since taking the job a few years before, Marcantel had worked to reduce the number of prisoners held in their cells for 23 hours a day, and he wanted to better understand what these prisoners actually experienced. He told a reporter, "There are just things sometimes that you gotta feel, you gotta taste, and you gotta hear, and you gotta smell."
The video footage of his two days in a 12-by-7-foot cell has an eerie intimacy. Wearing standard-issue yellow scrubs and a bright orange beanie, Marcantel, a former cop who resembles a bodybuilder, looms around the cell. He listens to the shouting and clanging outside his door, writes in a notebook, and picks at some rubbery breakfast meat. His face alternates between boredom and curiosity. He reads Night, the Holocaust memoir by Elie Wiesel, and a business book called Boundaries for Leaders.
The stunt was not Marcantel's only effort to address solitary confinement, though it was the most public. Working with the Vera Institute of Justice, a nonprofit organization based in New York, his staff was implementing a program called Restoration to Population, which would allow inmates affiliated with prison gangs to renounce their membership and earn their way out of solitary confinement through good behavior. Another program would allow inmates who had been held in solitary for their own protection—informants and the young and weak—to live together in regular housing. The number of New Mexico state prisoners in solitary dropped from 10.1 percent in late 2013 to 6.9 percent in June 2015.
This was a modest victory, and not a politically risky one: Curbing solitary is less likely to anger the public than, say, spending money to help inmates obtain college degrees. Marcantel was still criticized by progressives for opposing a statewide ban on solitary for those with mental illness. But in the glowing press coverage—ABC News called him the "ultimate undercover boss"—Marcantel positioned himself as open-minded to reform while conservative enough to avoid being seen as soft on criminals.
Marcantel had a clever way of selling his plan to reduce solitary confinement: Instead of focusing on human rights, he talked about public safety. He told the Albuquerque Journal that when solitary is overused, "all you're doing now is creating a socially isolated human being that's going to go back to your neighborhood" and commit more crimes (one study found such prisoners are twice as likely to reoffend). "We've got to do everything we can to send people back better from prison than when they came."
The broader implication of Marcantel's point—that prisons should take rehabilitation seriously in order to alleviate crime and protect the public—has become a primary talking point within our current moment of criminal justice reform, a moment in which journalists, politicians, and policy experts are trumpeting an unprecedented level of cooperation between the political left and right. In February 2015, the American Civil Liberties Union, the Center for American Progress, FreedomWorks, and Koch Industries announced they would collaborate to back the Coalition for Public Safety and lobby to reduce mandatory-minimum sentences, support alternatives to incarceration, and reduce the overall prison population.
The push for reform has many supporters, including fiscal conservatives who think incarcerating the nonviolent is a waste of money, Evangelicals who believe that overlong sentences rob people of a chance at redemption, libertarians who see a bloated criminal justice system as an example of government overreach, and progressives who talk about crime as the product of racial injustice and the decimation of welfare programs for the poor and the mentally ill. With such varied ideological backgrounds, finding a common language can be difficult, so the terminology tends toward the appealingly vague—"smart on crime," "best practices," "evidence-based policies"—though the goals generally circle around reducing the prison population and helping people who come out of prison to avoid returning.
One place that has managed to keep both incarceration and crime rates low is Western Europe. In 2013, the Vera Institute took a group of corrections officials to tour prisons in the Netherlands and Germany. They found that throughout the continent, sentences are significantly shorter than in the US, and the entire focus is on rehabilitating prisoners so they can return to society. Wardens are often professional psychologists and emphasize therapy over security. There are fewer than 100 prisoners for every 100,000 Germans, and more than 600 prisoners for every 100,000 Americans. Few Germans spend more than 15 years in prison.
While Germany's low crime rates cannot be directly credited to the country's therapy-driven prisons, researchers at Vera believed that learning about how these prisons work might help Americans improve their own. In other words, Germany might offer new ways of addressing the problems Marcantel had highlighted with his trip to solitary confinement a year before: How might treating prisoners differently ensure they would not commit crimes after getting out?
As Vera began planning a tour of German prisons, scheduled for June 2015, they invited Marcantel and other criminal justice leaders who had showed an interest in reform. Nicholas Turner, the institute's president, envisioned the weeklong excursion might function as a "summer camp," in which unlikely bonds would be formed to pave the way for political collaboration back in the US.
Accepting the invitation, Marcantel admitted he did not have a "real good sense of Germany." But he had traveled to Europe before and been struck by "how much more they know about America than I know about them." He chided his fellow Americans for their insularity. "Why do I need to know about you?" he said with a chuckle. "Everything spins around America!"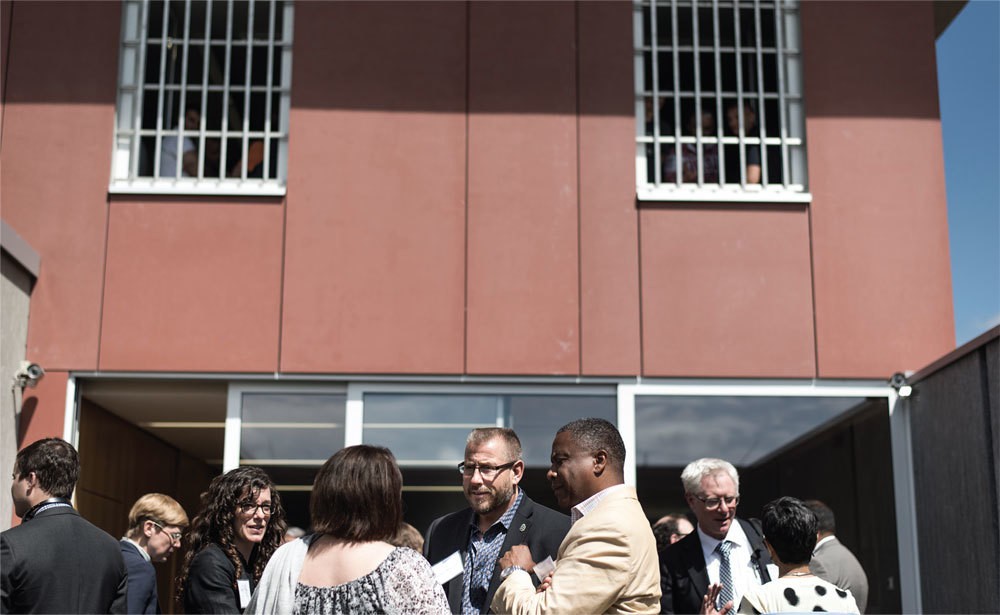 Members of the International Sentencing and Corrections Exchange gather outside Heidering, including Gregg Marcantel (center), secretary of New Mexico's Corrections Department.
On a Sunday morning this past June, the two dozen members of the International Sentencing and Corrections Exchange were drowsy from an overnight flight to Berlin. Along with Marcantel, Vera had invited the heads of the prison systems in Connecticut, Tennessee, and Washington, as well as two district attorneys, a former prisoner, an historian, a law professor, several policy analysts, and influential activists from the left and right.
Marcantel was animated during the introductions, which were held in a private room at a downtown restaurant, full of dark wood and brass lamps. Everyone listed the universities or agencies or think tanks or foundations they were representing. The academics used words like "carceral." Craig DeRoche, of the Evangelical organization Justice Fellowship, talked about where people's "hearts are." Marcantel was the first to crack a joke, opening coyly with, "Hi, my name is Gregg, and I'm an alcoholic."
Jeremy Travis, the president of the John Jay College of Criminal Justice at the City University of New York, explained how the German approach to incarceration may differ radically from the American approach today, but this had not always been the case. In the 1960s, incarceration rates in Europe and the US were broadly comparable, but then ours began to climb. From the 1970s through the 1990s, while Germany, Sweden, France, England, and their peers never saw their incarceration rates change by more than 50 percent in either direction, the US rate rose by roughly 300 percent.